Album review: John Jenkins – Window Shopping in Nashville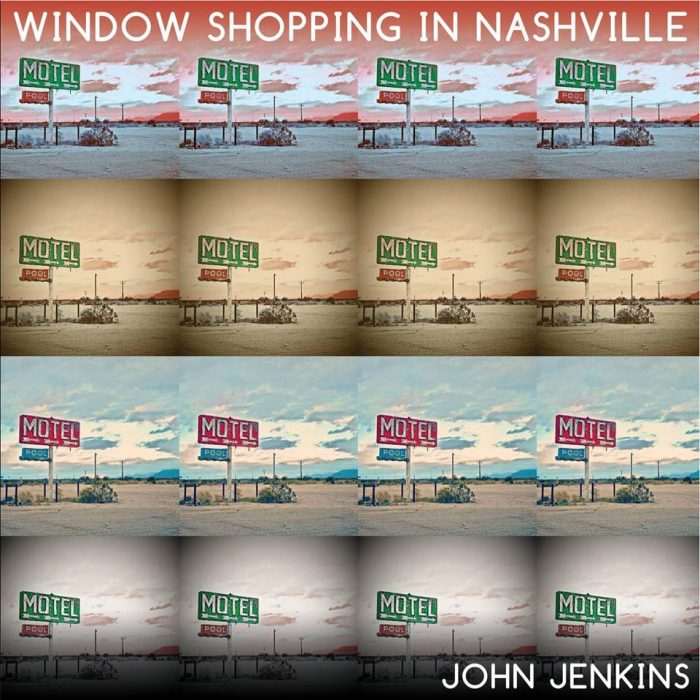 ALBUM REVIEW
Artist – John Jenkins
Album – Window Shopping in Nashville
Release date – 24th November 2017
Reviewer – Derek King, Liverpool Acoustic
Often when we listen to a new album, we crave quality over quantity, we need structure and certainty, and less can most decidedly be considered more.  The listener may sometimes lose concentration if there are too many similar styled tracks featuring the same musicians, and endless virtuoso instrumental solos can even seem self indulgent and become tiresome.
But it must be said that this mammoth double album offering by Liverpool musician John Jenkins, featuring no less than 21 original tracks, most assuredly provides the listener with both the quality and the quantity.  Window Shopping in Nashville piques our interest and makes us stop and take note immediately with track one, a memorable pop song entitled Silhouettes, in which Jenkins duets with up and coming star Megan Louise.  The sound of Jenkin's seasoned vocal blended with Megan Louise's youthful tones hooks us in the first chorus and makes us want to listen on.
And after that, Jenkins doesn't let us go.  Every song's intro catches the listener immediately and keeps us guessing how the song will develop and which of the myriad musicians will feature next.
Much of the album, Bitter Harvest, Quicksand and Laugh Away the Tears for example has a decidedly country-ish feel, awash with slide guitars and banjos, but again Jenkins mixes things up by often using lyrics that don't really quite fit C & W.  There are beautiful ballads on the album too, The Unopened Letter and Louise being very moving examples.  Jenkins also treats us to some rockier numbers and a couple of jaunty sing-along songs, and never one to quit while he's ahead, also throws in some quiet and honest introspection together with some self deprecating humour.  Some of the lyrics are raw and earnest here and really tug at the heart strings.
Critics may argue that Jenkins tends to play safe and doesn't often stray far from tried and trusted easy listening formulae, but easy listening is exactly what Jenkins is all about, and it is what he does expertly.  Yes, he gives us a good deal of that middle of the road niceness, but this never descends anywhere close to cloying formulaic saccharine because he skilfully melds it with unique and catchy melodies, clever and inventive lyrics, and performances by some of Liverpool's finest musicians and singers.  To listen to Window Shopping is to soak for an hour or more in a nice warm bath, topping up the hot water every so often so that you can enjoy a few minutes more.
The lion's share of the album was produced by the excellent John Lawton of Crosstown Studios in Liverpool, and while Jenkins takes the lead in the vocal and instrumental performances, the album features supporting roles from a cast of too many local artists to mention individually.  Highlights would however undoubtedly be the vocals of Camilla Skye, Vanessa Murray and the afore-mentioned Megan Louise, Amy Chalmer's superb violin work, and Chris Howard's pedal guitars and banjos.
So, why not run yourself a nice deep hot bath, put John Jenkins on, and have long comfy soak until your fingers go all wrinkly – you'll love it!
Derek King
Review © 2017 Derek King, Liverpool Acoustic